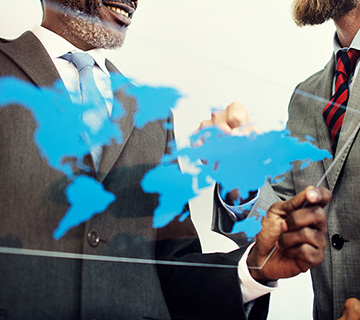 Operational markets
The Exagon Industries Ltd group companies only have markets, branches, subsidiaries or permanent establishments in the countries listed below. The list is updated on a regular basis and new business locations get added only if they have been fully structured and are completely operational.
The choice to settle in new regions worldwide or to open headquarters and offices in certain markets is often dictated by medium- and long-term opportunities, based on projects and solutions that strategically require the proximity of raw materials, transportation or communication systems, as well as the availability of executive teams and economic and financial resources.
[Zooming map in & out: please use CTRL/CMD + MouseWheel]
West: UK and The Commonwealth, USA (Holding headquarters, subsidiaries manufacturing facilities and centralized R&D)
LATAM: Chile, Mexico, Puerto Rico, Ecuador, Peru (sole representative office)
West, Central and South Europe: Germany, Austria, France, Portugal and Spain (sole representatives offices, 4ENG R&D facilities in Germany are under planning)
Baltic Europe: Estonia, Latvia, Lithuania, Poland, Czech Republic (sole representatives offices)
North-Eastern Eurasia: Russian federation, Kazakhstan (sole representatives offices)
Asia: Singapore, Hong Kong, Malaysia, Taiwan, Thailand, Japan (manufacturing facilities and R&D, subsidiaries commercial offices)
Indian Subcontinent: India (sole representatives offices)
Arabian Peninsula: UAE (strategic offices for Middle East market development)
Africa: Egypt, Morocco, Tunisia, Kenya, South Africa (sole representatives offices)
We are currently considering entering the Turkish and Israeli markets.
Legenda:

- Headquarters, subsidiaries and manufacturing facilities, centralized R&D, strategic offices for market development, subsidiary commercial offices
- Sole representative offices
- potential markets under development